| Item ID | Starting Bid | Bids | Current Bid |
| --- | --- | --- | --- |
| 56017 | $5.00 | 7 | $11.00 |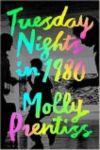 Hailed by Good Reads reviewers as "absolutely mesmerizing;" an autographed copy of Tuesday Nights in 1980 will be sent to you when it's released in April 2016.
An intoxicating and transcendent debut novel that follows a critic, an artist, and their shared muse as they find their way—and ultimately collide—amid the ever-evolving New York City art scene of the 1980s.
As inventive as Jennifer Egan's A Visit from the Goon Squad and as sweeping as Meg Wolitzer's The Interestings, Tuesday Nights in 1980 boldly renders a complex moment when the meaning and nature of art is being all but upended, and New York City as a whole is reinventing itself. In risk-taking prose that is as powerful as it is playful, Molly Prentiss deftly explores the need for beauty, community, creation, and love in an ever-changing urban landscape.